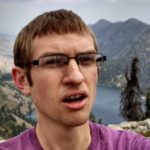 @markingalls
active 1 day ago
There aren't enough Little Caesar's pizzas in the world to contain my hunger.
View
I am friends with a lot of folks in the Tri-Cities who have siblings or kids in marching band. This weekend, they will be traveling over to the west side of the mountains to participate in a parade and competition […]

Thanks for a great article Mark. My daughters were in marching band in high school, and they travelled quite a bit to compete in the many band competitions. But we didn't have a major mountain pass to traverse to get to any of the competitions … I must study a lot more pictures of the snowy NW mountain peak photos for ID. Some are easy, some not so. I am guessing that the picture you have in your post here is Mt Rainier but I am not so sure. I run a very informal contest once in a while when I run into a great picture of a state or other prominent high point – circulating a picture of it among my friends and seeing who can come up with the right answer first. Perhaps I will figure out how I could expand that to this blog, or else just get your private emails and sent it out to you along with many others, including Jeff Taylor, a long-time weather friend from back here in Maryland. Thanks again for the great post!